For the first time since 2012, when they won the NFC Championship, the 49ers have won back-to-back games to begin the season.
Coming off a 41-17 destruction of the Cincinnati Bengals, the 49ers return home for the home opener against the 0-2 Pittsburgh Steelers.
Outscoring their two opponents by a combined 38 points, 72-34, the high-flying 49ers offense and athletic defense will look to take advantage of a Steelers that is without quarterback Ben Roethlisberger.
Scoring 41 points against the Bengals, the 49ers offense was firing on all cylinders. Kyle Shanahan was in a groove, scheming wide receivers and running backs wide open. The 49ers running game was phenomenal, and Jimmy Garoppolo was very good as well.
Following a rocky start in Week 1, Garoppolo settled in after an ugly interception, finishing the game with 296 passing yards and three touchdowns. The biggest difference from one week to the next being his willingness to throw the ball deep, after not sending a single pass more than 10 yards downfield in Week 1.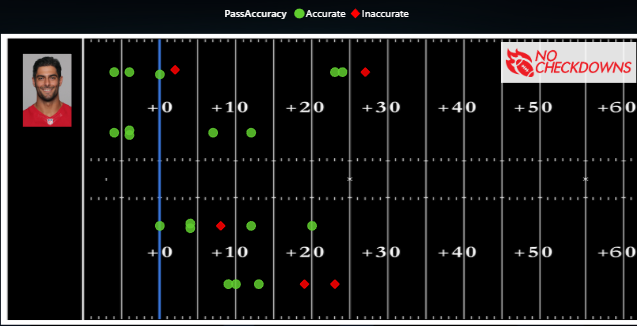 Fresh Faces in Pittsburgh
This past week has been nothing short of a rollercoaster for the Steelers. Losing Roethlisberger for the season to a re-aggravated elbow injury, the Steelers will deploy backup Mason Rudolph for the rest of the season. The second-year quarterback out of Oklahoma State will make his first career start against the 49ers, after filling in for Roethlisberger in last week's loss to the Seattle Seahawks. 49ers Defensive Coordinator Robert Saleh had this to say about Rudolph on Thursday:
"We went through and watched all his preseason tapes, his snaps and all that. He's poised, he really is. And I'm not doing the coach speak, he really is. I think, in my honest opinion, I do think Pittsburgh's got a really good quarterback sitting there with him. You just watch his clips, he's got a good arm, he's accurate, he knows exactly where to go with the football so you can tell that's he's very well prepared. I'm just really impressed with his tape, much more so than I thought I'd be when I actually turned it on."
After losing their most important player, the Steelers doubled down on their current roster and traded for star safety, Minkah Fitzpatrick. Upset over his situation with the Miami Dolphins, Fitzpatrick requested to be traded, and the Steelers swooped him up just in time for Sunday's matchup against the 49ers.
Seemingly with every star player that hits the market, the 49ers are immediately linked to that player. Whether the 49ers actually had interest in Fitzpatrick or not, has yet to be seen. As many fans clamored for Fitzpatrick to be a Niner, the star safety will indeed be playing at Levi's Stadium this weekend, just for the opposing team. Garoppolo was asked about facing Fitzpatrick on Wednesday and had this to say.
"Yeah, they traded for him for a reason, so yeah we'd expect to see him out there. We'll see what they do. I mean, learning a new defense and everything can be tough, so it'll be interesting. He's a hell of a player. Very, very physical, can cover very well."
If it ain't broke, don't fix it
Through two games, the 49ers are playing their best football in years. Yes, the two teams they faced were not very good, but they have displayed plenty of Kyle Shanahan offensive wizardry to go along with their overpowering defense.
The key to beating the Steelers this week? The 49ers need to keep doing what they're doing. The recipe for success through two games has been constant pressure on the quarterback, sideline-to-sideline coverage on defense, and offensive play-calling that leaves opponents dazed and confused.
Defensively, the 49ers attack opposing quarterbacks with a fierce front seven that has collected seven sacks through two games. Entering week three, those seven sacks were tied for sixth-best in the league. Ranking in the top ten in the league is great and all, but it must be noted that this defensive line has yet to be at full strength, as Nick Bosa and Dee Ford continue to battle injuries.
Last week, linebacker Kwon Alexander dominated in his first full game with the team. His pure athleticism and high-energy stood out, reminding everybody why he is one of the ten highest-paid linebackers in the league. A Pro Bowler with Tampa Bay, Alexander's game has elevated after being inserted into the 49ers defensive scheme.
Running the ball for a mediocre 3.1 yards per attempt in Week 1, the 49ers backfield exploded for 259 rushing yards (6.2 Y/A). Without featured backs Jerick McKinnon and Tevin Coleman, the 49ers have had success with undrafted running backs dating back to last season. Shanahan explained on Wednesday how he is able to have such great production out of lesser-known backs.
"I mean, I know it happens a lot probably more with running backs, but I think there is a chance that it could happen with all positions. It takes 11 guys to run the ball. If you've got the other 10 guys working very hard, not just the O-Line and tight ends, but the quarterback, the receivers, everyone throughout the week and then you have the right type of guys at running back they can make you even better. I thought we had a real good game, the 10 guys blocking, and then I thought our backs even got a lot more. I mean, I always look at how much they get that we block for and then they are paid for what they get after. All three of our guys broke a lot of tackles and did a great job. If you want one guy to do it all on his own you might have to always go for a top-five pick and you're going to be disappointed until [former Detroit Lions RB] Barry Sanders comes around. I never feel like running the ball with just one guy, it's got to take everyone."
An Injury Report that grows by the week
The 49ers entered OTA's with injuries, they began training camp with injuries. they began the season with more injuries. Unfortunately, the injuries keep on coming. In last weeks victory over the Bengals, the 49ers lost their longest-tenured player, and heartbeat of the team, Joe Staley. Fracturing his fibula in the third quarter of last Sunday's game, Staley is expected to miss six-to-eight weeks and will avoid being placed on Injured Reserve.
Filling in for the six-time Pro Bowler, and the thirteen-year vet is rookie Justin Skule. Drafted in the sixth round of the 2019 draft, Skule has massive shoes to fill. For the first time in his career, Skule was the guy that the media swarmed in the locker room.
A quiet, soft-spoken guy, Skule is the complete opposite of Staley in that regard. Starting in his first NFL game, Skule told the media that his experience playing in the SEC will help him prepare for Sunday's matchup, as well as advice from his fellow rookie teammates.
Skule said on Wednesday:
"Obviously it's a different level of competition and stuff, but Nick Bosa said it best to me, he said 'just take a deep breath, it's still just football.' I think that's something im going to really focus on this week.
Opposite of Skule, at right tackle, will be second-year offensive lineman Mike McGlinchey. Offering advice and mentoring Skule has been a tandem effort by both Staley and McGlinchey, as the second-year tackle appreciates what Staley does for the young offensive lineman.
McGlinchey told media on Wednesday:
"I know Joe had Justin over last night helping him out. I'm helping him out as much as possible. I think my admiration for Joe has gotten stronger here in the last four days because of how he's handled this. It was a sh***y situation the way things turned out, and it's a freak play that broke his leg. These last few days he's been a great teammate, and has shown his true colors. The only thing he wants is for us to be successful."
A call to action: 49er fans need to step it up
Ever since Levi's Stadium opened in 2014, the 49ers have had a very difficult time filling seats and creating a home field atmosphere. Compared to their former home, Candlestick Park, as well as most stadiums around the league, Levi's Stadium has lacked a true home-field advantage. With the way the team is playing and the potential that's in-store, the 49ers need that fan support throughout the entire season, and the fans have been called to action, just two days before their home opener.
Notes
Wide receiver Trent Taylor has been sidelined since the end of training camp with a foot injury. Late Friday morning, the 49ers placed Taylor on Injured Reserve, designated to return after eight weeks. Shanahan explained the move:
"Yeah, we are definitely hoping to get him back in eight weeks or eight games. The bone healed up, but he had too many flare ups, soft tissue things around it. A lot of things that were causing us concern, so we wanted to shut him down for a little bit. Hopefully it won't take all the eight weeks to get healthy, but we know with the IR rules that's the next time we can use him."
In addition to the Taylor update, Shanahan confirmed that the team is still anticipating a return from rookie wide receiver Jalen Hurd after the Week 4 bye.
Defensive end Dee Ford practiced Friday afternoon for the first time this week, a good sign that he will indeed play Sunday. The rest of the teams' practice report can be found below.