About 150 black bloc demonstrators marched Wednesday in Sacramento, hoping to expel potential far-right demonstrators from town.
Protesters focused their attention against the self-proclaimed chauvinist right-wing Proud Boys group, police forces and the U.S. political establishment.
One group shouted:
"Fuck Trump, fuck Biden too. They don't give a fuck about you!"
The protest came two weeks after the storming of the U.S. Capitol on Jan. 6, where hundreds of former President Donald Trump supporters and far-right groups fought Capitol Police and forced entry into the building.
Hundreds of rioters have since been arrested. The FBI has released dozens of images related to the violent attack and continues to search for more participants; dozens have been charged and the "FBI has received more than 100,000 tips," according to the New York Times.
The Sacramento demonstrators met in two separate groups on Inauguration Day, one at John C. Fremont Park — located southwest of the California State Capitol building — and one at J. Neely Johnson Park, several blocks north.
Roughly 60 protesters gathered at Fremont Park, some armed with sticks and umbrellas as well as shields and flags with flagpoles.
One black bloc protester, who did not give their name, said they came to fight the U.S. political system, including the new administration under President Joe Biden.
They said:
"I think just because we do have a fascist out, we still have another one coming in. People think there is going to be change and I think there is, but the system is still broken … We are still incarcerating many of our fellow folks … We have a lot to work on."
They also discussed local Sacramento issues, including a meeting that took place Tuesday night at the Sacramento City Council, where they said the Sacramento Police Department talked about 2020 protests and showed one-sided videos depicting only left-wing activists as violent instigators. They said that during protests last year, groups like Antifa — made up of decentralized antifascists — faced rubber bullets and tear gas, while Proud Boys had no such crowd control methods used against them.
They also hoped the Biden administration would shut down the Keystone XL Pipeline — Biden signed an executive order later in the day that revoked a cross-border permit required to complete the pipeline. They noted the excessive violence used against Indigenous people who protested against the project and its streaming of oil through sacred lands, which many also fear could endanger the area's water systems.
Biden revoked the cross-border pipeline permit required to complete the pipeline with an executive order during his first day in office.
Leaving the park, the black-clad marchers walked through the streets and chanted:
"You can't stop the revolution! Ah, anti, antifascista!"
The Fremont Park group joined up with the separate group from Neely Park at the Capitol building, where they cheered and celebrated as they dragged down a few metal barriers. One demonstrator ignited a small pink smoke bomb, which shrouded fellow protesters and billowed into the sky.
Two #antifa groups met in front of Capitol in #Sacramento @sfbay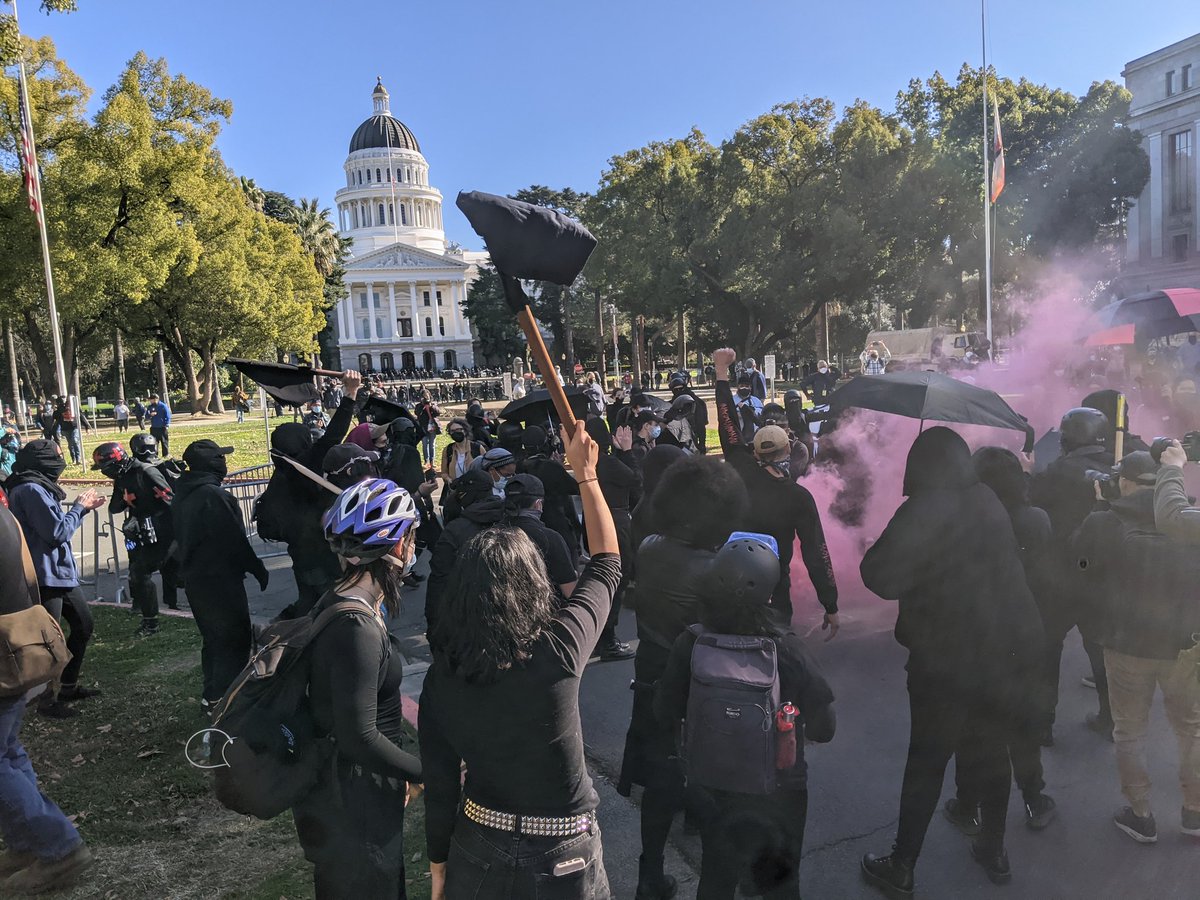 Originally tweeted by Aaron Levy-Wolins (@alevywolins) on January 20, 2021.
After spending less than 10 minutes at the Capitol, the combined group made it only two blocks before infighting ensued on where to go next, causing the groups to split apart once again. One group headed back to Fremont Park while the other went back and dispersed at Neely Park, but not before stopping at the Sacramento County Jail, where they waved to a few inmates peering out from windows several floors up.
One bystander was dismayed by the protest, and particularly by one participant who'd shrouded themselves in a Black Lives Matter flag.
The onlooker, Wayne, who is Black, said that while he recognized the the group's First Amendment right to free expression, the demonstration meant nothing to him.
He said:
"There've been demonstrations before and if you look around, nothing's changed … I mean when you talk about real change it's not gonna change anything bro. On the big scale, where Blacks need it to be changed, this is not gonna get it done."
Wayne said that for as long he's been alive, he's never seen anyone truly actively help Black people in meaningful ways and he questioned the protesters' motivations, saying:
"Why are other races just so concerned these days about Blacks when it's been so long-going? Kids have been getting killed, people have been getting choked out and killed by the police forever, so I don't see no real significance in marching and tearing shit up, causing confusion."
He lamented that nothing has been done to curtail police violence against African Americans even after decades of Black-led demonstrations and more recent multiracial protests against police brutality. He said he was also angry at what he sees as black bloc protesters inciting violence as a way to garner reactions.
The FBI warned against potential far-right violence at state capitals across the nation. Last Thursday, California Gov. Gavin Newsom activated 1,000 members of the National Guard to protect the state Capitol building in Sacramento.
On Wednesday, Biden was sworn in as the 46th U.S. President. In his inaugural address, he touched on challenging issues the nation faces, including the coronavirus pandemic, job loss and the rise of white supremacy. However, the primary theme of his speech was one of unity.
Biden said:
"[There's] much to repair, much to restore, much to heal and much to regain … We must set aside politics and face this pandemic as one nation."
Outgoing President Donald Trump opted not to attend Biden's inauguration, leaving the White House early Wednesday morning on Marine One for a departure ceremony at Joint Base Andrews.
Before departing the White House, Trump spoke briefly to a small group of supporters and reporters, saying:
"It has been a great honor, the honor of a lifetime."
The California Highway Patrol denied a permit to Chris Bish, "a Republican who ran unsuccessfully for the Sacramento congressional seat in November," for a 3,000-person "Let Freedom Ring" protest at the California State Capitol building, according to Sacramento NBC affiliate KCRA.
Very few conservatives or centrists openly opposed the march Wednesday. SFBay spoke to Colton Smith, who did not participate in or against the demonstration. Smith, a 23-year-old Santa Cruz resident who studies history, wore a Make America Great Again hat and a Biden/Harris face mask.
Smith said:
"[I wore them] to number one, piss everyone off and show that I don't entirely politically align with any one ideology."
Smith said he came to Sacramento after watching the Jan. 6 U.S. Capitol breach. He denounced Antifa demonstrator tactics, saying they were in the California capital to shut down First Amendment rights of people who disagree with them.
Smith said:
"We can't have political violence — intimidation is completely wrong. If Antifa wanted to come out and spread a message of some kind, I would be all for that, despite the fact that I don't agree with them ideologically. Their primary purpose to come here was to suppress other people, and that is not permissible in modern society at all."
Smith also expressed interest and hope that Biden will run a centrist administration, saying:
"I want him to bring in a coalition of Republicans and Democrats so that we don't just keep volleying like a metronome from one political extreme to the other, from left to right … every four to eight years. What we need is for Biden to listen to conservatives and to allow them to have a place at the table so he's not just appeasing half of the country.
Smith added:
"You have to appease the majority of the country. And it's okay for people to stick to their political ideologies. It's okay for people to have disagreements — that's what America is all about — but we need to stop this political polarization."